Rolfo Museum
CONCRETE TESTIMONY... 
Dear visitor, this museum founded by Great Officer Giorgio and Bernardo Rolfo, to commemorate their grandfather Giorgio and father Antonio Rolfo, creators of Rolfo S.p.A. ; as tangible evidence of the efforts and sacrifices made and pride in a Company that still respects the traditional modesty and serenity values; all this combined with the company's important position on international markets.
Rolfo S.p.A. has a solid past, rich in events and experiences. The base of today's structure. Experience and temperament, unquestionable foundations for a modern enterprise.
Their story began far back in 1885, born of an initiative taken by Giorgio Rolfo, grandfather of the present Directors. He opened his wagon-maker "shop" to build carts and carriages. With the arrival of engines, the small shop restructured and updated for news needs, to repair trucks. And the founder's three sons became involved.
In the 1940s, Giorgio and Bernardo came of the scene. Since a very young age, they had shown great versatility. In 1942, the company suffered a great loss with the death of its founder, then succeeded by his tree sons. But only one was to continue the work, supported by his young sons Giorgio and Bernardo.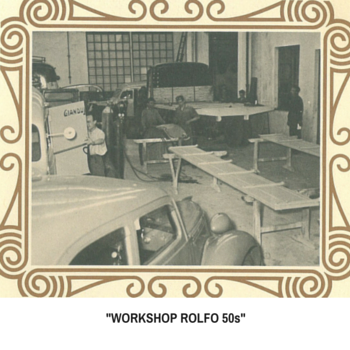 In 1943, another blow hit the family, the death of Antonio Rolfo leaving the company in a delicate situation for his young heirs. They showed their first act of courage and faith in their work and future. While the workshop continued repairing trucks at full speed, the Rolfo brothers were looking to the future for new market opportunities. Their ability, the trust they inspired, mutual understanding and support of each other bore immediate, profitable fruit: the first Officine Rolfo trucks.
As year went by, the company began to look like a small industry, an advance on what it is today. In 1951, the "craft series" production of industrial coachwork began. In over a century, production has changed completely: from craft to industry. From working a single piece to assembly lines, right onto automation. 
Rolfo has gone through all these changes.
Technological innovation and searching for the highest quality result has always been the Rolfo Company goal.
From "shop" to Rolfo Workshop to today's ROLFO S.p.A., commitment, work and success with the Rolfo family in the forefront all the time; they still coordinate and manage all Company activities.
Il museo della Rolfo è situato presso gli stabilimenti Rolfo in C.so IV Novembre, 30 a Bra (CN) Italy. Per informazioni o visite contattare l'ufficio pubblicità & marketing tel. +39 0172.472292 oppure via mail a: marketing@rolfo.com. Il museo è aperto su prenotazione dal lunedì al venerdì con orario 8,30-11,00 / 13,30 - 16,00 con ingresso gratuito.